Tips for a Healthy, Sunny Summer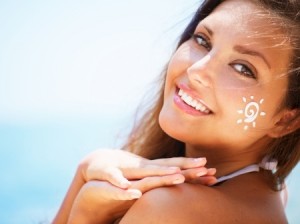 The summer is in full swing! New Yorkers can attest to the heat almost every day when we leave our homes and are immediately exposed to the sun.A tan is your body's best attempt at protecting your DNA from harmful UV rays. Many of us think "as long as I don't burn, I'm fine." The truth is, as your skin processes the sun's UVA and UVB rays, skin tanning is a minimal defense mechanism to protect your skin from the sun and is inadequate for sunburn protection.
The sun's rays cause your melanocytes to send melanin to the surface of your skin. Pheomelanin is found in lighter skin tones and causes a red appearance where eumelanin is typically found in darker skin tones such and causes a browning appearance.
Tanned skin offers sun protection of a mere 2.4 SPF, a far cry from the suggested SPF 15 minimum.
Exposing your skin to the sun's harmful UVA and UVB rays is the leading cause of skin cancers
Five or more sunburns and you double your risk of infecting skin cancer…
The Sun's rays can cause dehydration, fine lines, telangiectasias, uneven skin tone, exacerbated rosacea and a rough texture.
7 Sun Protection Rules
However, if we can't convince you to avoid the sun altogether, here are some tips for protection:
For a naturally sun-kissed look, don a sunscreen with an SPF of 15 at a minimum, though it is highly recommended to use one with SPF of 30 for those who have especially pale or sensitive skin.
Sunscreens are not everlasting – if your sunscreen has been exposed to heat, change it every year
Ladies, please use sunscreen before you apply makeup, not the other way around or it will be less effective
Reapply sunscreen should you get significantly wet. Dry the affected areas first, as sunscreen gets broken up in water
Waterproof sunscreens are not completely fool-proof, make sure to reapply every 80-120 minutes you've been exposed to the sun
Whether or not you are a fashion enthusiast, wear hats and sunglasses for extra protection of your scalp, ears, eyes, and face.
Remember that sun damage is cumulative and most happens from day to day living, not just your day at the beach. Protect yourself daily. The money you spend on a good SPF is much less costly than the alternatives of costly treatments to reverse signs of sun damage or worse, irreversible damage.
If you notice brown spots and other forms of skin pigmentation, Dr. Westreich can help improve skin tone and texture with IPL Photofacial, laser for brown spot removal, or even skin resurfacing through peels. Read more about it or call our office to schedule a consultation.
---
Back to Blog
Rate Us!
Please take a moment to rate your experience
with our team.