Dr. Richard W. Westreich To Be Featured in New York Magazine's Best Doctors Issue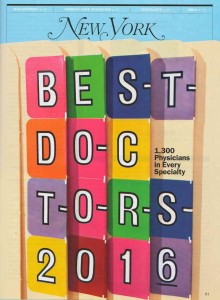 It is a great honor to announce that Dr. Richard W. Westreich has once again been selected to be featured in New York Magazine's upcoming Best Doctors issue (June 2016). Dr. Westreich is humbled to earn the confidence of his respected colleagues.
New York's list of outstanding doctors is derived from Castle Connolly's annual guidebook Top Doctors: New York Metro Area, a comprehensive listing of the top 10% of the region's physicians. To determine who will be included in Top Doctors, Castle Connolly Medical Ltd., a New York City research firm, conducts a peer-reviewed survey. Licensed physicians are invited to nominate doctors by field and specialty, taking into consideration qualifications, reputation, and ability to communicate and gain the trust of patients. All nominations are confidential and a doctor cannot nominate him or herself or pay to be listed.
Being ranked among the best plastic surgeons is a valued distinction, particularly in Manhattan where there is a high concentration of exceptional surgeons and healthcare professionals. The recognition serves not only as a reward but as inspiration to continually refine the techniques and processes at the heart of patient-centered care.
This is not the first year that Dr. Westreich has been featured as a top doctor. Dr. Westreich had the privilege of being listed with New York's elite surgeons in Castle Connolly's 2014 and 2015 edition, New York Magazine's Top Doctors in 2014, and Realself Top 500 doctors in 2015. His patients' positive reviews also allowed him to receive the prestigious Patient's Choice Award from Vitals.com, a recognition that was given to only 5% of the nation's active physicians.
Dr. Westreich and his staff would like to thank colleagues who nominated and voted for him to be included in NY Magazine's Top Doctors and Castle Connolly's Top Doctors: New York Metro Area, both this year and in the past. He would also like to thank his loyal patients for their patronage and continued recommendations. Dr. Westreich is committed to bringing state-of-the-art technology and advanced techniques to his everyday practice. He and his staff look forward to maintaining and exceeding the high standard of care for which his office has become known.
Once again, thank you for your votes of confidence!
---
Back to Blog
Rate Us!
Please take a moment to rate your experience
with our team.